Share feedback
Thanks for sharing your feedback!
How To Manage Gateways Within Tulip
Here's how to view and update Edge Devices within Tulip.
If you want to configure an individual Edge Devices , see this setup guide to learn how to log in to the Device Portal for each Device.
After setting up multiple Edge Devices at your factory, you can view and update all Edge Devices on the "Edge Devices" page within the "Shop Floor" tab of Tulip.
To access this page, log in to your Tulip account and choose the "Edge Devices" option under "Shop Floor".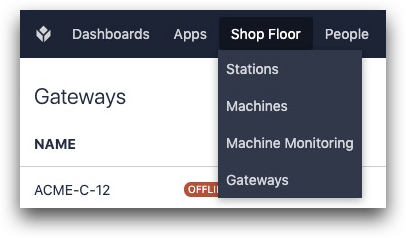 You will see a list of all Edge Devices that are connected to your Tulip account.
There are two things that you can do from this page:
Update the software on an individual Edge Device
Log in to the Device portal for each device.
Updating the Software on an Individual Device
Tulip will periodically release updates to the software running on the Edge Device. To update to the latest version, click the "Update" button in the "Software" column for each Edge Devices that is eligible for an update.

Logging In To The Device Portal
You can also use this page to log in to the Device Portal for each individual Edge Devices . In order to do this, you must be on your company's network (the same one as the gateway).
Click the IP address in the "Local IP" column to be redirected to the Device Portal for that individual gateway.

---
Did you find what you were looking for?
You can also head to community.tulip.co to post your question or see if others have faced a similar question!
---
Was this article helpful?
---
What's Next