Share feedback
Thanks for sharing your feedback!
How to Register an Edge MC
Register your Edge MC to your Tulip account
Once you've completed setting up your Edge MC you're ready to register it to your Tulip account.
Registering Your Edge MC
The Edge MC will automatically create its own access point once you've connected it to power and ethernet.
If your laptop or PC is connected to the internet or corporate network through a wired Ethernet cable, unplug the Ethernet cable
Connect your computer to your Edge MC's access point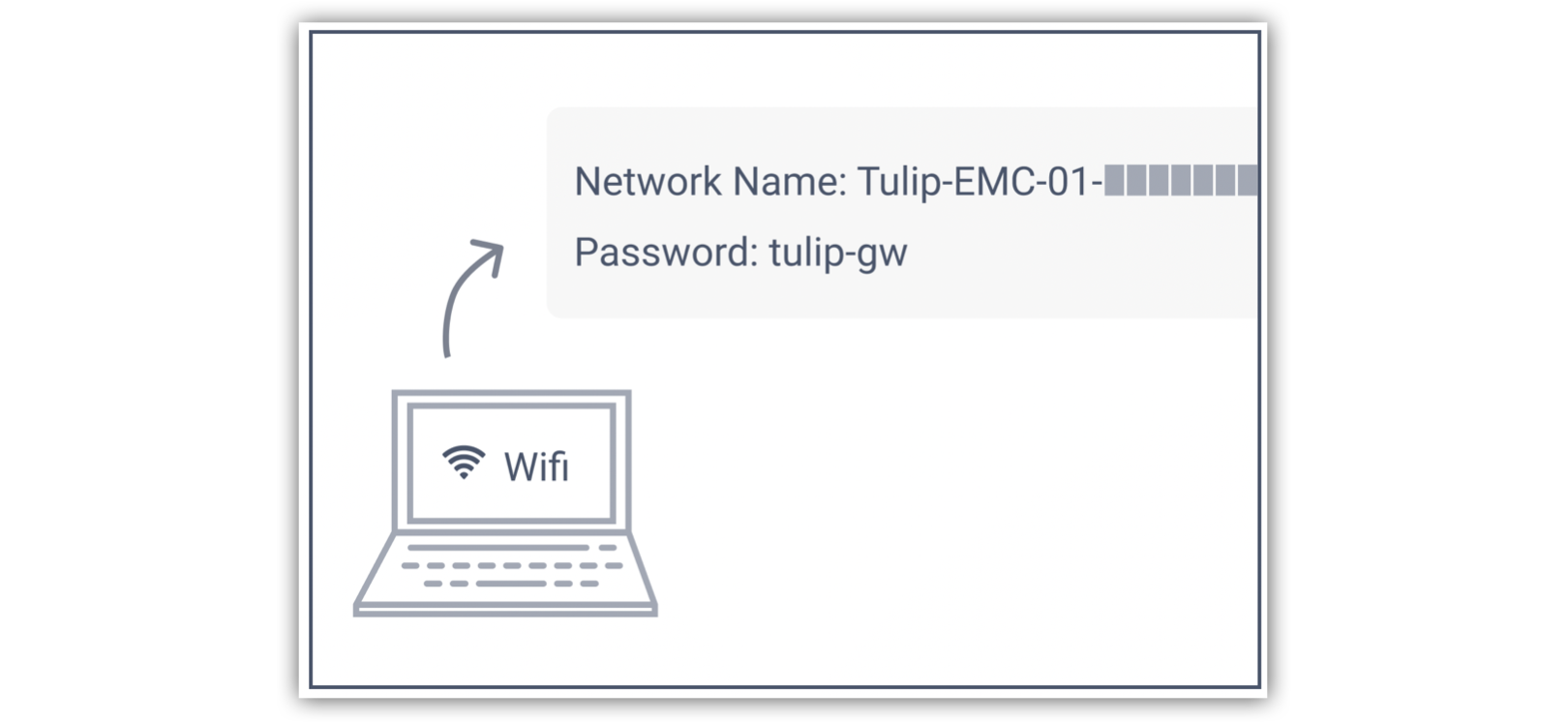 In the password field, type the password of the local host: tulip-gw
Open browser and type in the IP address https://10.0.3.1 to launch the Edge MC portal

Verify Edge MC name on portal matches Edge MC serial number.
Click the button to continue setting up your Edge MC
You will be prompted to set up a password for your device: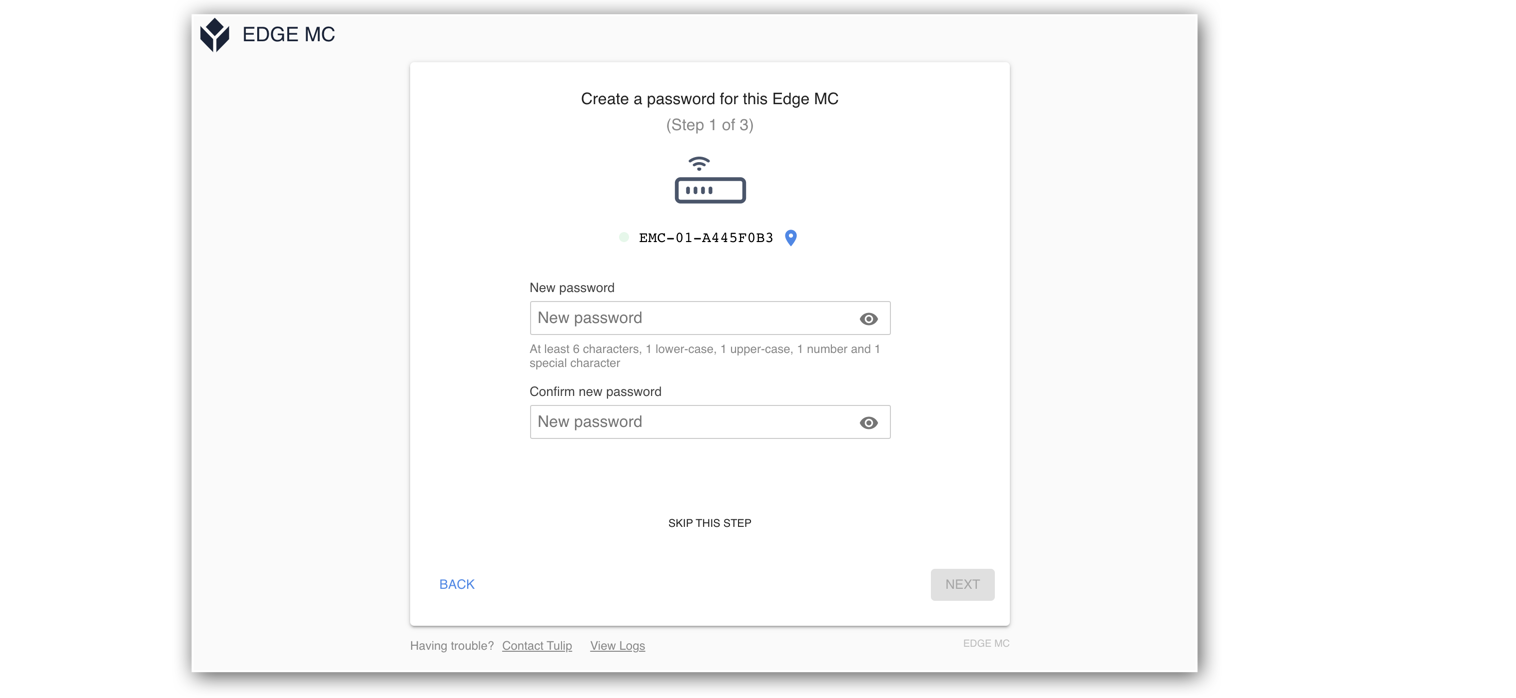 This is an Edge MC specific password, and is different from the WPA2 password and your Tulip account password.
Save this password. If you forget it, you will not be able to re-configure the device.
Next, register your device to your Tulip instance: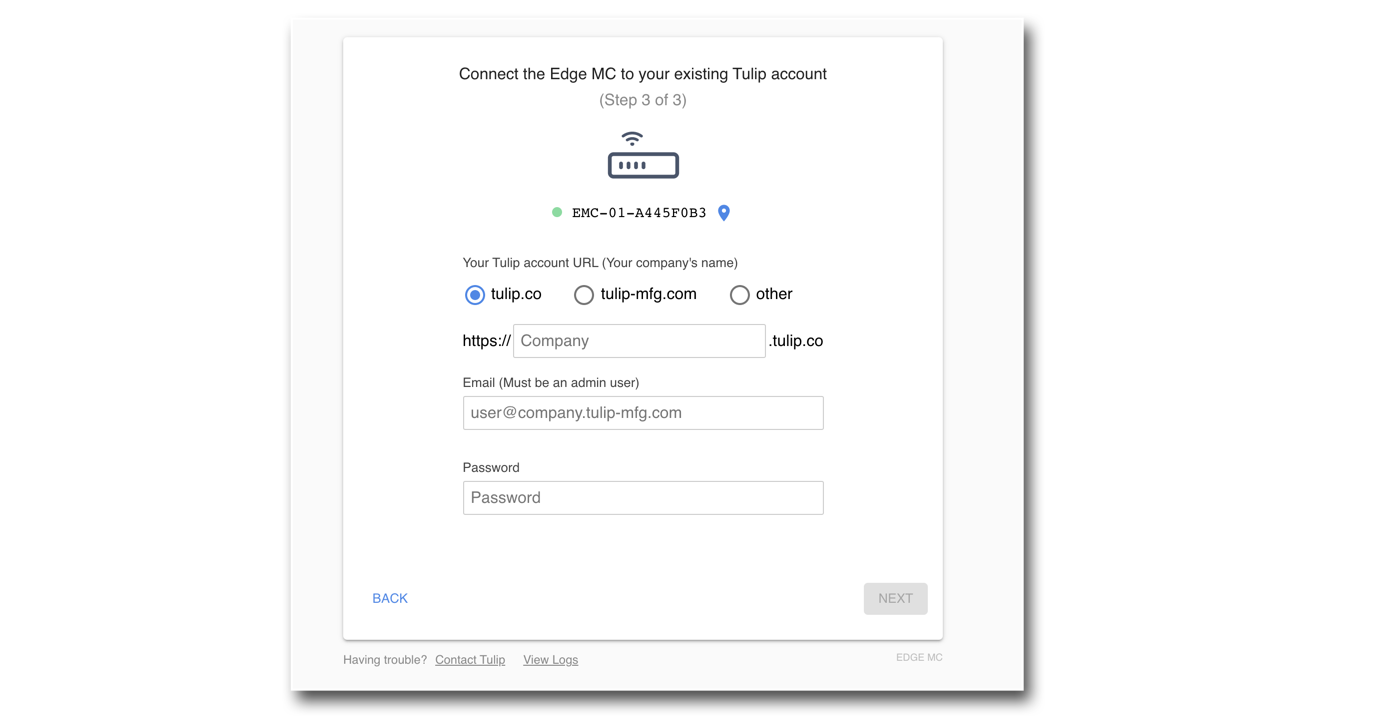 When registering your Edge MC, use the address of your Tulip account (<your_account>.tulip.co) You will need to use your login credentials that have already been validated on your Tulip account.
If you have SAML enabled, you will need to go your profile page on your instance, Click on "Change Tulip password" and use this password to register this device.
NOTE
This is purely for registering edge devices and cannot be used for other login purposes.
Congratulations - you have finished setting up your Edge MC!
Accessing the Edge MC
Device Portal
Please note, once the Edge MC is online, you can access the Edge MC portal by navigating to its IP address. To obtain the assigned IP address, navigate to Shop Floor > Edge Devices.

Troubleshooting Your Edge MC
Forget Edge MC Password or Need to Reset? Click here
Forgot Account Password? Click here
Forgot Account? It is usually the name of your company. Ex: Company's name is King Fisher then the account would be king-fisher.tulip.co
Still Having Trouble? Click here to set-up your username/password, or contact us on live chat.
---
Was this article helpful?
---
What's Next