Using the Cognex In-Sight 2000 Driver
A guide to the Cognex-Insight-2000 Driver
This article describes the capabilities and configuration associated with the Cognex Insight driver in Tulip.

Capabilities
The Cognex In-Sight driver allows network-connected In-Sight series Cognex devices to be integrated into Tulip Apps though the Tulip I/O Gateway and Edge IO.
The driver supports sending the results of a Vision Job from the camera to Tulip. This is exposed in the Tulip App Editor as a "Device Event" as shown below:

It's also possible to load a vision job using the "Run Device Function" trigger as shown below:

Configuration
To configure your Cognex In-Sight device to be used with Tulip, first ensure that your Cognex In-Sight Camera is powered and connected to the same network as your Tulip Edge Device.
Then configure the camera output as demonstrated in this article: How to Configure Cognex and Tulip
Then, visit the Gateway Portal page for your Edge Device to configure the driver.
The relevant configuration screen is shown below.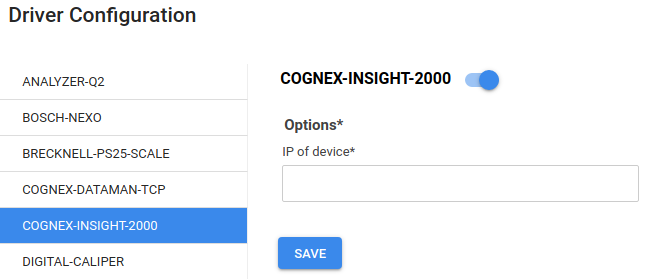 The options are described in detail below:
IP of device - This is the IPv4 address of the Cognex In-Sight device.
---
Was this article helpful?
---