Share feedback
Thanks for sharing your feedback!
Open Beta
The Frontline Copilot Translate trigger action is currently in open beta. Reach out to copilot@tulip.co if you are interested in joining the beta.
Beta Disclaimer
Use of Beta Versions offered by Tulip is optional and is at your sole risk. Due to the untested/unproven nature of Beta versions, they are provided "as is," "as available," and without warranty. This means that any warranties, indemnities and other obligations of Tulip under any terms of service or MSA do not apply to Beta Versions.
Frontline Copilot is powerful! We will help to guide, but you are ultimately responsible for the impact of what you build.
We reserve the right to turn off any and all Copilot Triggers at any time if we notice something unexpected.
We reserve the right to limit Copilot Triggers during the course of the beta if and as needed.
You will not be charged for the usage of Copilot Triggers during the program. You will have three months after the conclusion of the program to decide to continue with the feature or not.
At some point in the future, we may implement usage based pricing for beta features.
Purpose
The Translate Trigger Action is powerful, but simple. Provide text along with a target output language and this trigger action will return translated text. The source language is automatically detected based on the text that is provided.
Example Use Cases
Modern manufacturing takes place across countries and languages. It conforms to the language where your users are most comforatable, which is critical to drive the best possible insights.
Some example use cases include:
Unifying the notes added along with defect reports to one target language. Users can enter their description of the underlying issue in their native language, and it will automatically be translated to the language spoken by key stakeholders.
Message between employees, respecting each of their native languages. Lookup the desired language of the recipient, and translate any messages to that user into their target language without any overhead for the user sending that message.
Translate information from other business systems into user native language. The packaging notes returned from your ERP are critical to ensure no defects are created, but these notes are complex. Translate them into the native language of your users on the fly to reduce the risk of these defects.
Inputs and outputs
The trigger action has two inputs, Text and Target language, and one output, the translated text.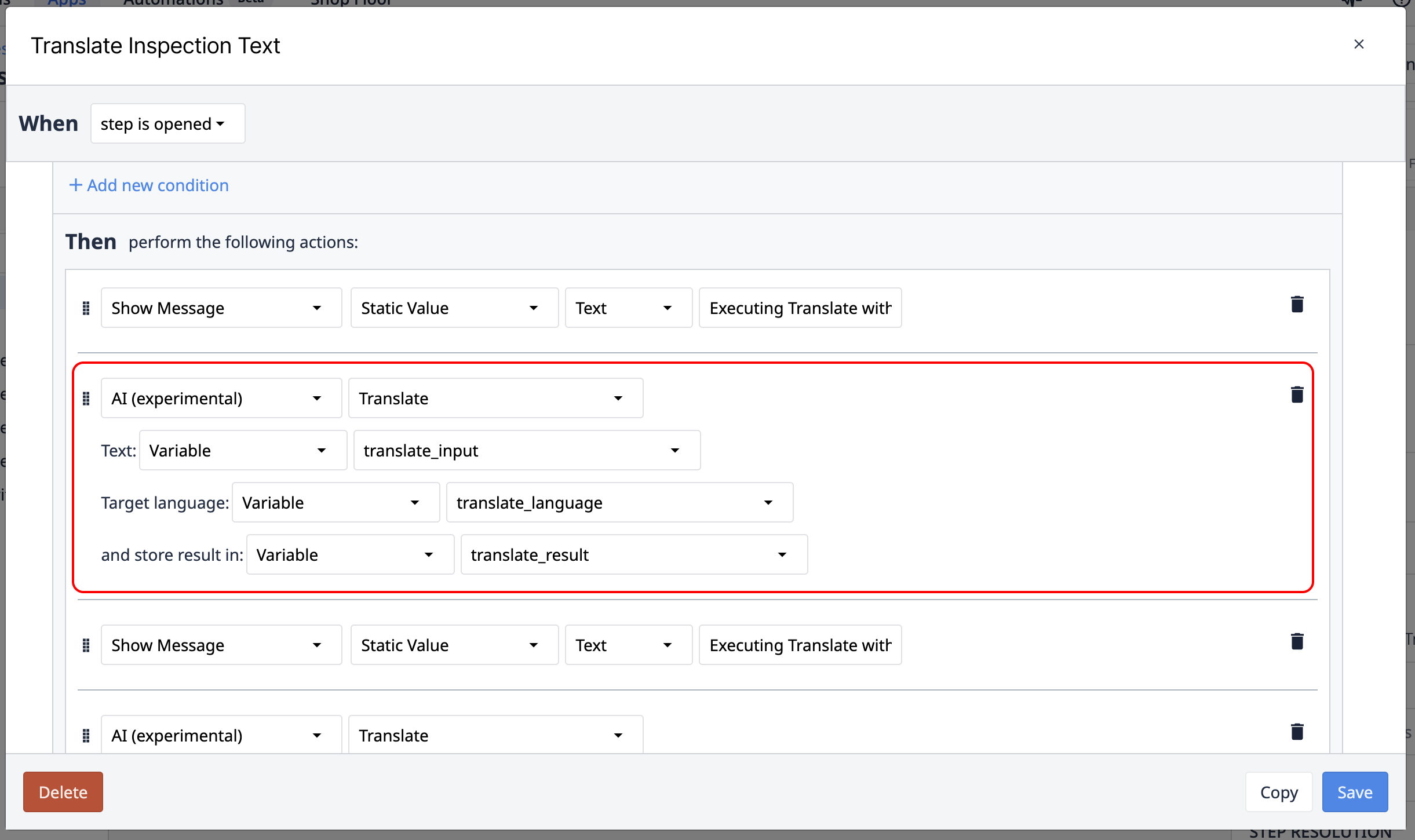 Input: Text
This is the text that will be translated. "Translate" automatically infers the language of the text.
| | Supported data type |
| --- | --- |
| Input | Text |
Input: Target language
This is the language the text should be translated into. The input should be in ISO 639-1 format as shown in the "Supported values" list below.
| | Supported data type |
| --- | --- |
| Input | Text |
Supported Languages
The following languages are supported for Text and Target Language.
| Language code | Language |
| --- | --- |
| BG | Bulgarian |
| CS | Czech |
| DA | Danish |
| DE | German |
| EL | Greek |
| EN-GB | English (British) |
| EN-US | English (American) |
| ES | Spanish |
| ET | Estonian |
| FI | Finnish |
| FR | French |
| HU | Hungarian |
| ID | Indonesian |
| IT | Italian |
| JA | Japanese |
| KO | Korean |
| LT | Lithuanian |
| LV | Latvian |
| NB | Norwegian (Bokmål) |
| NL | Dutch |
| PL | Polish |
| PT-BR | Portuguese (Brazilian) |
| PT-PT | Portuguese (all Portuguese varieties excluding Brazilian Portuguese) |
| RO | Romanian |
| RU | Russian |
| SK | Slovak |
| SL | Slovenian |
| SV | Swedish |
| TR | Turkish |
| UK | Ukrainian |
| ZH | Chinese (simplified) |
Output: Translated Text
The trigger action returns the translated text.
| | Supported data type |
| --- | --- |
| Output | Text |
Edge Cases
No text to translate provided
If no text to translate is provided to the trigger action, an empty string will be returned.
Unsupported input text language
The trigger action will try to interpret the text as one of the supported languages. Depending on the input, this can either lead to text being translated inaccurately or the input text being returned as the translated text.
No target language provided
If no target language is provided to the trigger action, the App will show the following system error:
Target language for translation not provided. Contact your Tulip administrator for support.
This happens for both of the following cases:
The target language input does not have a value assigned. This is equivalent to "null".
The target language input has an empty string assigned.
Unsupported or invalid target language provided
If an unsupported invalid target language is provided, the App will show the following system error:
An invalid ISO 639-1 language codec was provided for the translation trigger. Contact your Tulip administrator for support.
Limits
Warning
Limits are subject to change.
Currently the following limits exist for Translate triggers. These limits are tracked on an Instance level. In a case where these limits have been exceeded, the translate trigger action will fail.
Montly Limit: No limit
Rate Limit: 10 Requests/Minute

---
Was this article helpful?
---
What's Next