Share feedback
Thanks for sharing your feedback!
We are thrilled to announce the release of OS54.1, which includes several exciting updates and improvements that we believe our users will appreciate.
EIO Player Update to 2.2.0 and Performance Improvements
NOTE
As part of the improvements to player performance, we have capped the maximum resolution of Tulip Player on Edge IO. As part of an upcoming release, we will allow this thresholded to be configured by the user.
We have updated the EIO Player to version 2.2.0, which introduces several important new features and fixes various issues that were present in previous versions. You can find the details on Player 2.2.0 in the Tulip Knowledge Base. With this update, we've also optimized OS54.1 to run on the EIO hardware. This should provide significant improvements to the Player's overall performance when running on EIO.
Security Updates
At Tulip, we take security very seriously. We are constantly monitoring for potential security vulnerabilities and implementing patches and fixed. OS54.1 includes several important security updates to help protect our users from potential threats.
Disable SNMP by Default and Add Toggle to Enable
Going forward, we have disabled SNMP protocol by default. However, we also understand that some users may need to use this protocol for their specific needs. Therefore, we have added a toggle to enable SNMP protocol for those who require it.
UI Style Changes
We have made some subtle changes to the user interface in OS54.1. These changes are designed to improve the overall user experience and make the operating system more intuitive and user-friendly. Specifically, you'll see the options toggles now more closely align with the general Tulip UI.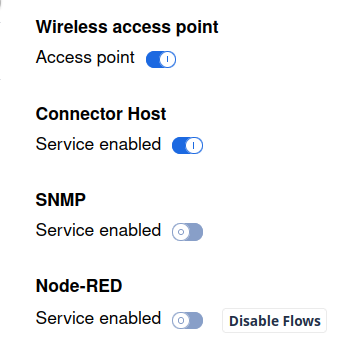 Update Instructions
The improvements included in OS54.1 will help our users enjoy a more seamless and secure experience when working with our Edge IO. We encourage all users to download and install this update as soon as possible to take advantage of these enhancements.
To install the firmware update, please navigate to the Edge Devices page under Shop Floor in your work space and trigger the update for all devices that indicate and update is available. It may take up to 15 min before your device initiates the update once it is queued. Please ensure that the device maintains a network connection until the update process is complete.
If you encounter any difficulties during the update process, our customer support team is ready to assist you. Please contact them via support@tulip.co, live chat in your instance, or leave us a comment in the Community Discussion Thread.
---
Was this article helpful?
---
What's Next