An explainer on transitions in triggers
Many triggers in Apps will end with a Transition. This article outlines how Transitions operate, the capability of Transitions, and what to expect when running Transitions.
What are
Transitions

?

Transitions are what allows the user to navigate between steps and Apps. Within any kind of trigger, a Transition can be added to appropriately route the user through the Apps you create.

By clicking Add new transition, there are a few options:
Go to
Step
Previous
Next
Specific Step
Go To Step By Name
App
Cancel

App

Cancel

App Then Log Out Current User

Cancel

Then Change To

Cancel

Then Change To Step <App, Step>

Complete

and Go to Splash Screen

Complete

App

Complete

App Then Log Out Current User

Complete

Then Change To

Complete

Then Change To Step <App, Step>

Complete

Then Change To Step By Name
Using
Transitions
Identifying the options available is very important, as only one can be added to a Trigger's Then statement. To clarify this point further, it is possible to add a Transition to each Then in a trigger containing multiple conditions, or else statements.
Other notes for Transitions include:
A Transition must go at the end of the Then

Actions

. This ensures all data is captured, and the Transition is the last action for that

Trigger

.
If using multiple of the same trigger type (i.e multiple triggers on the same button), it is necessary to ensure all

Transition

based logic is held within a single trigger.
Trigger Interactions with Transitions
When a Transition occurs, Step and App Level Triggers may both be activated. For example, a complete trigger on a step may activate a On Step Close, and an On App Complete trigger to fire. The following diagram outlines various examples to display the flow of events with transitions.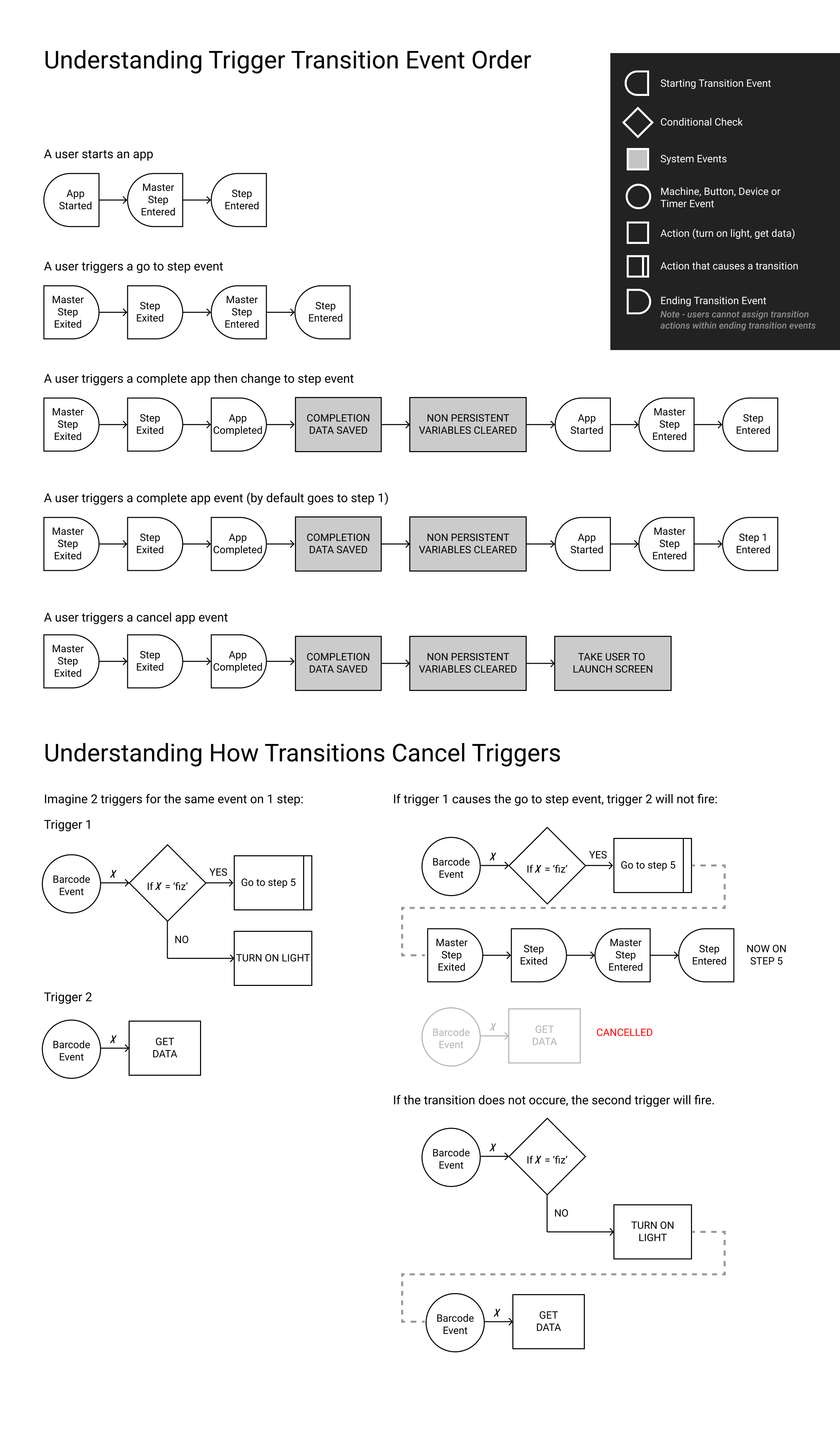 ---
Did you find what you were looking for?
You can also head to community.tulip.co to post your question or see if others have faced a similar question!
---
Was this article helpful?
---
What's Next