List of Plug And Play Devices That Work With Tulip
---
Share feedback
Thanks for sharing your feedback!
Here's a few examples of plug an play devices in Tulip, and how to start using them.
Tulip supports a broad array of devices. Many of these devices are plug-and-play, meaning you can plug them into a Tulip Edge Device and start using them immediately.
Most devices are even plug-and-play with a Windows computer that's running the Tulip Player app, and no Tulip Edge Device is required.
Here is a list of some of the plug-and-play devices supported by Tulip. If you want to see the full list, check out our Device Library.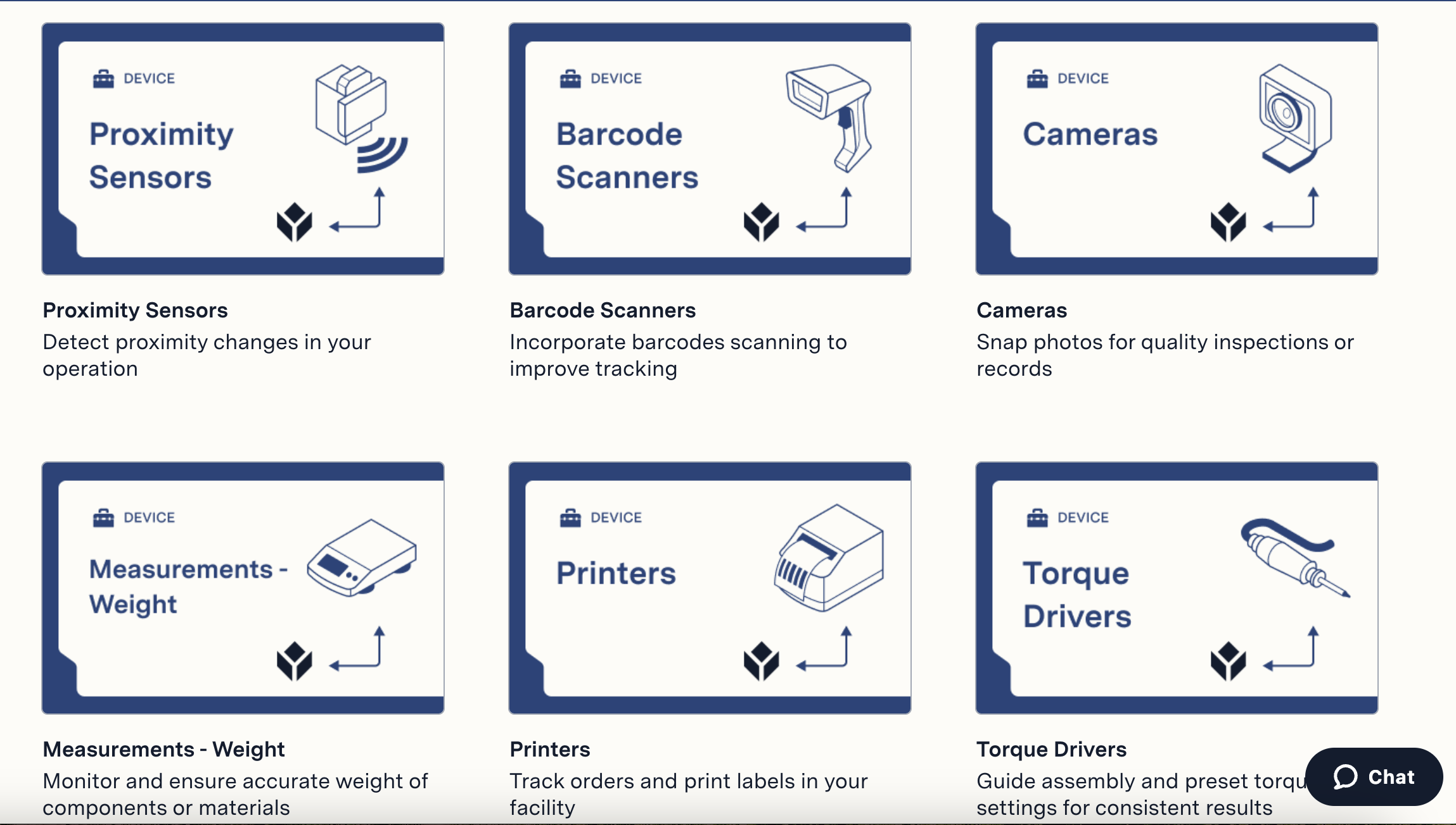 Barcode Scanners
Most barcode scanners are plug-and-play on both the Tulip Edge Device and Windows computers.
Here are some popular barcode scanners that we support out of the box:
In many other cases, however, Tulip will be able to work with your barcode scanner after a few configuration steps in either the Tulip Edge Device or the Tulip Player.
To work with Tulip, the barcode scanner must be configured to emulate a keyboard with a CR suffix. This means that when you plug the barcode into your computer, your computer should recognize it as a keyboard, and when you scan a barcode, the barcode scanner should type out the barcode followed by a line break.
For example, Honeywell barcode readers should be configured according to the user manual, by scanning the "Laptop Direct Connect with CR Suffix" mode.
The process to configure each Barcode Scanner varies. In order to obtain the configuration specifications, you should investigate the device's User Manual.
Here's how to set up your barcode scanner with Tulip if it is not included in the Device Library.
If your barcode scanner supports QR codes, then Tulip will also be able to store those QR code values.
Foot Pedals
Tulip supports the iKKEGOL USB Single Foot Switch. It is plug-and-play on both the Tulip Edge Devices and Windows computers with the Tulip Player app.
RFID Readers
Tulip-supported RFID readers are plug-and-play on both the Tulip Edge Hardware and Windows computers with the Tulip Player app, and can be used for operators to log in.
Just connect the RFID reader to a Tulip Edge Device or a Windows computer running the Tulip Player, and when an operator scans their RFID badge, they'll be logged into that Tulip station. You can match an RFID Badge ID with the User on the users page.
RFID readers can also be used for outputting as a standard reader. This is not the default use in some cases, so you will need to contact support@tulip.co in order to turn on this functionality. Once done, the RFID reader will be able to be selected as a device in App Editor Triggers, like below.

For all Tulip Instances created after V177, the default state is to use RFID devices in triggers.
Note that this change will turn off the scan in option.
The following RFID readers are supported:
If you are also purchasing RFID badges (rather than using existing badges your organization already has), we recommend Bosch Security Video HID Prox Cards D8236. These badges work out-of-the-box with the supported RFID readers and require no configuration of the reader or the badges.
If you're using badges your organization already has, you may need to configure the RFID reader to correctly scan your organization's RFID badges. You should test out scanning your organization's RFID badges using the RFID readers before using the RFID reader with Tulip. You can test the RFID scanner by plugging it into your computer – your computer will recognize it as a keyboard and the RFID scanner will type out the badge IDs as you scan badges.
Digital Calipers
Tulip-supported digital calipers are plug-and-play on the Tulip Edge Devices and Windows Player.
Tulip supports the following digital calipers:
Temperature and Humidity Sensor
Tulip supports the Lascar EL-USB-RT Temperature Humidity Sensor. It is plug-and-play on the Tulip Edge Devices only.
If you'd like to integrate with a device that's not listed on our devices page, let us know and we can help you with configuration and integration services for a wide range of additional devices.
---
Was this article helpful?
---
What's Next