Share feedback
Thanks for sharing your feedback!
How to get Tulip Support
Learn how and where you can get support from Tulip
Note: If you are currently experiencing a critical issue that is impacting production, please submit a Support Request with the Support Priority of Critical. See Section 2 - Support Requests below for details.
Overview of Tulip Support
Need help? There are three avenues for contacting Tulip Support:
Post your question in the Tulip Community
Create a Support Request through your Tulip instance
Start a Live Chat conversation via your Tulip instance
When reaching out to Tulip Support, please consider the nature and urgency of your request to choose the best avenue:
Tulip Community should serve as the first layer of support for questions. If you're experiencing an issue that involves confidential information or is urgent, you should submit a Support Request. If you're having an issue that might require extensive troubleshooting, starting a Live Chat might be most effective.
1 - Tulip Community
Tulip Community is a forum where Tulip Users (including customer, partners, and Tulipians) can post questions, interact with each other, and share interesting things they're doing with Tulip.
Utilize Tulip Community's Support & Troubleshooting page for guidance from both Tulip Team Members and other Users. Support & Troubleshooting requests are monitored just as Support Requests made through the Tulip instance are monitored.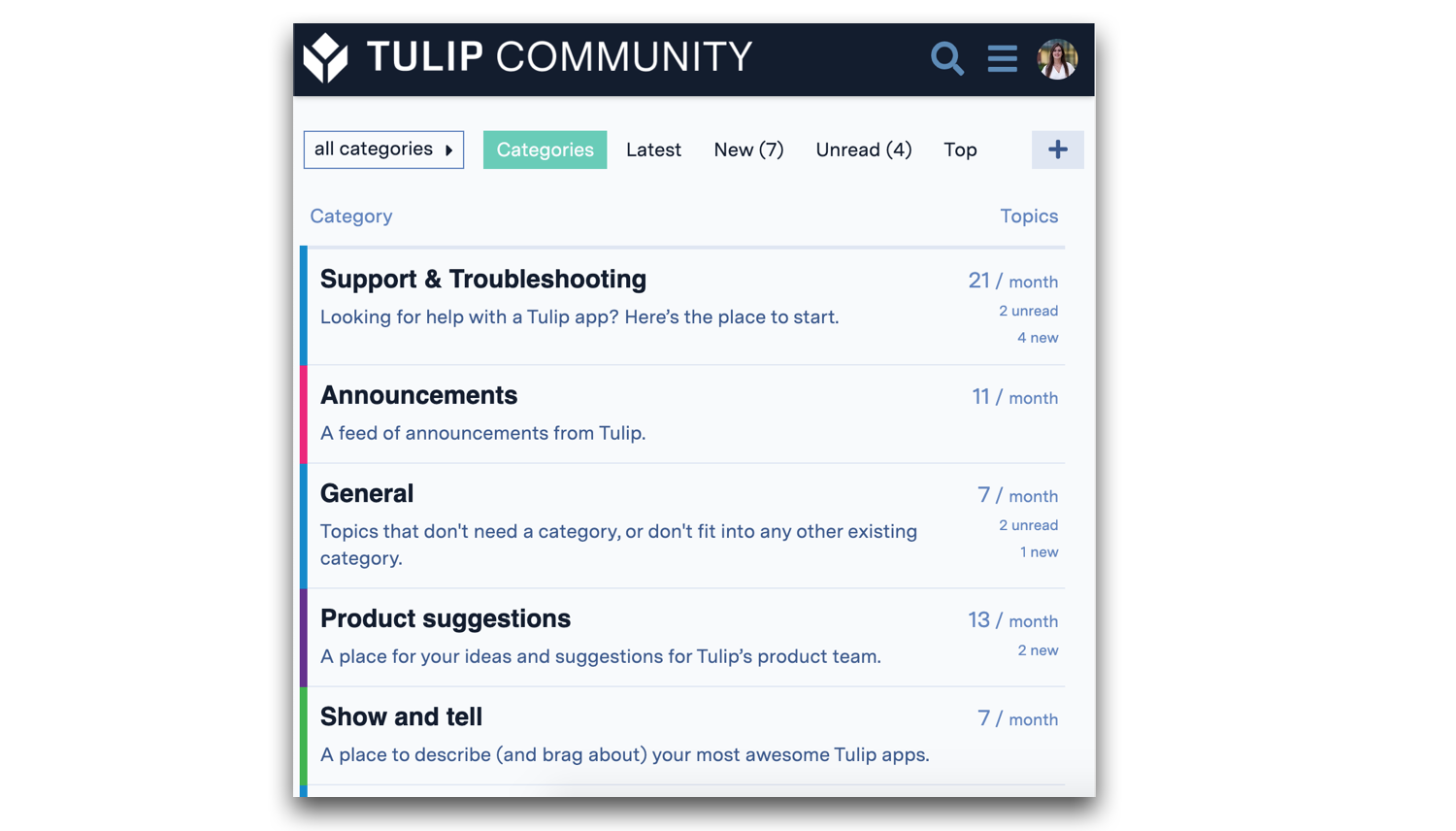 Examples of questions best suited for Community:
App Building - how to create certain functionalities within Tulip
Device Compatibility - what kinds of devices will work with Tulip and how
Requests for guidance on building Analytics
Product features currently available and feature suggestions
How to post on Community
Navigate to Tulip Community here, or directly from your instance by clicking on the Question Mark icon > Community.
Select the forum page that best fits your request
Create a new Topic

2 - Support Requests
You can submit a Support Request ticket directly from your Tulip Instance.
Questions best suited for Support Requests include:
Critical Issue affecting production (ie. requires immediate solution)
Bug reports
Questions that involve reviewing confidential information and thus cannot be publicly discussed in Tulip Community
How to Submit a Support Request
Click the Question Mark icon in the top right of your screen
Click Support Request.

Please fill in all prompted fields with as much relevant detail as possible - see bullets below. This will help us understand your request and provide the most effective support possible.
Selecting Criticality
Please choose Criticality as relevant to impact on live production (or equivalent, e.g., in a lab) usage.
Reserve Critical priority requests for "Production Down" incidents only.
NOTE
If you're unable to submit a Support Request, you can email support directly at Support@tulip.co
3 - Live Chat
Get Live Chat assistance with Tulip Customer Support:

Questions best suited for Live Chat include:
Edge Device troubleshooting
App building troubleshooting
Connector troubleshooting
How to start a Live Chat
Click on the Question Mark icon in the top right of your screen
Click Live Chat
---
Was this article helpful?
---
What's Next