How To Add Individual Machines And View Their History
---
Purpose
This guide will help you set up individual machines in Tulip via the Machines page and see their history.
In this article, you will learn:
How to add individual machines to Tulip and map their data via attributes
How to view the history of these machines without using an app or analytics
How To Add Individual
Machine

s And View Their History

In order to monitor machines in Tulip, you must first build an OPC UA connector in order to pull a node tree into Tulip.

In order to do this, your machines must output data in OPC UA format, or you must use a 3rd party service like Kepware to convert data from another industrial protocol.

Then, you should set up machine types and attributes to categorize the data coming off the machine.

After that, you can organize all OPC UA fields coming from the machine.

To start adding individual machines, head to the "Machine Library" page via the dropdown in the top left of the Machines page.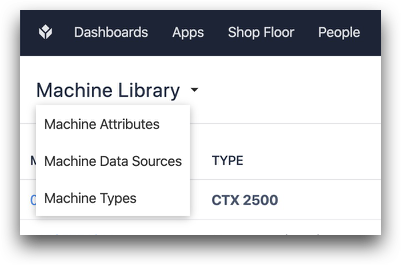 Adding a Machine with Fields
To add your first machine to Tulip, use the "Create Machine" button.

You will need to add four details.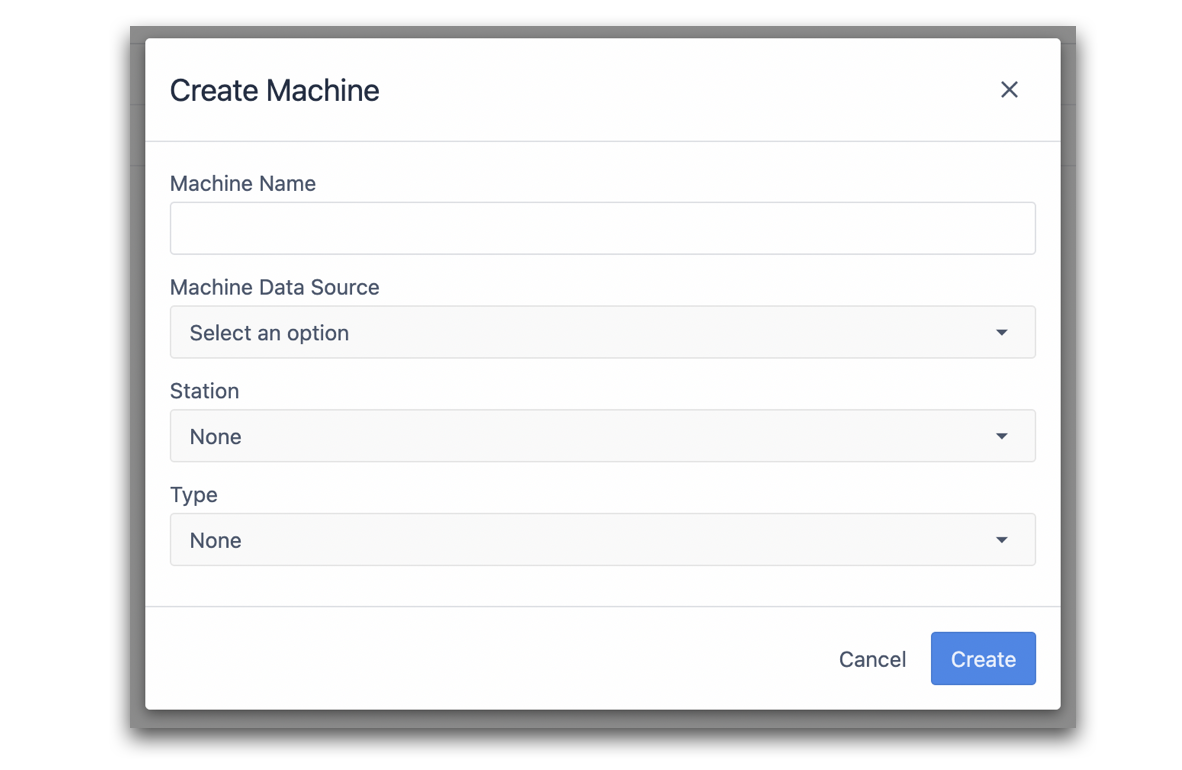 Name
Machine Data Source: OPC UA connector

Station

: the station from the Shop Floor where the machine will be running

Machine Type

: a Machine Type that you have already configured (if relevant)
Station and Type are not required.
After that, you have two options:
1- You can "Select Machine Node" on the left sidebar to import an entire node tree that contains the fields that you would like to monitor in Tulip.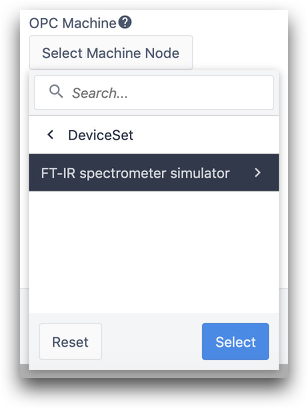 2- You can click the "+" sign in the top right of the "Field Mappings" section and add fields one by one.

Next, you will have the option to map fields to attributes. You must create common attributes to track any machine data. You should have already added these attributes to the machine type for this particular machine.
In the example above, the field "Tag1" is mapped to the attribute "Peluga".
Click "Save" when you are done, and a live line graph will begin populating with data from that tag from the past 20 seconds. This will show you if you have connected the correct field to Tulip.
Quality of Tags: tag information sends with a Good or Bad tag to verify the validity of the data between the OPC UA server and Tulip. These tags can be found within each tag from the OPC UA server, as shown below.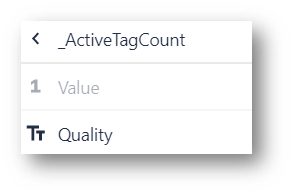 Viewing History of The Machine
Using Machine Triggers, you will want to map these Attributes to states so that you can accurately track the status of the machine on a second by second basis.
After you set up those triggers, you can see a history of the past machine states using the "Activity History" tab within each individual machine.
Here's how to access the history: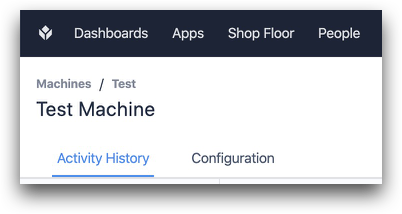 And here's an example of the history: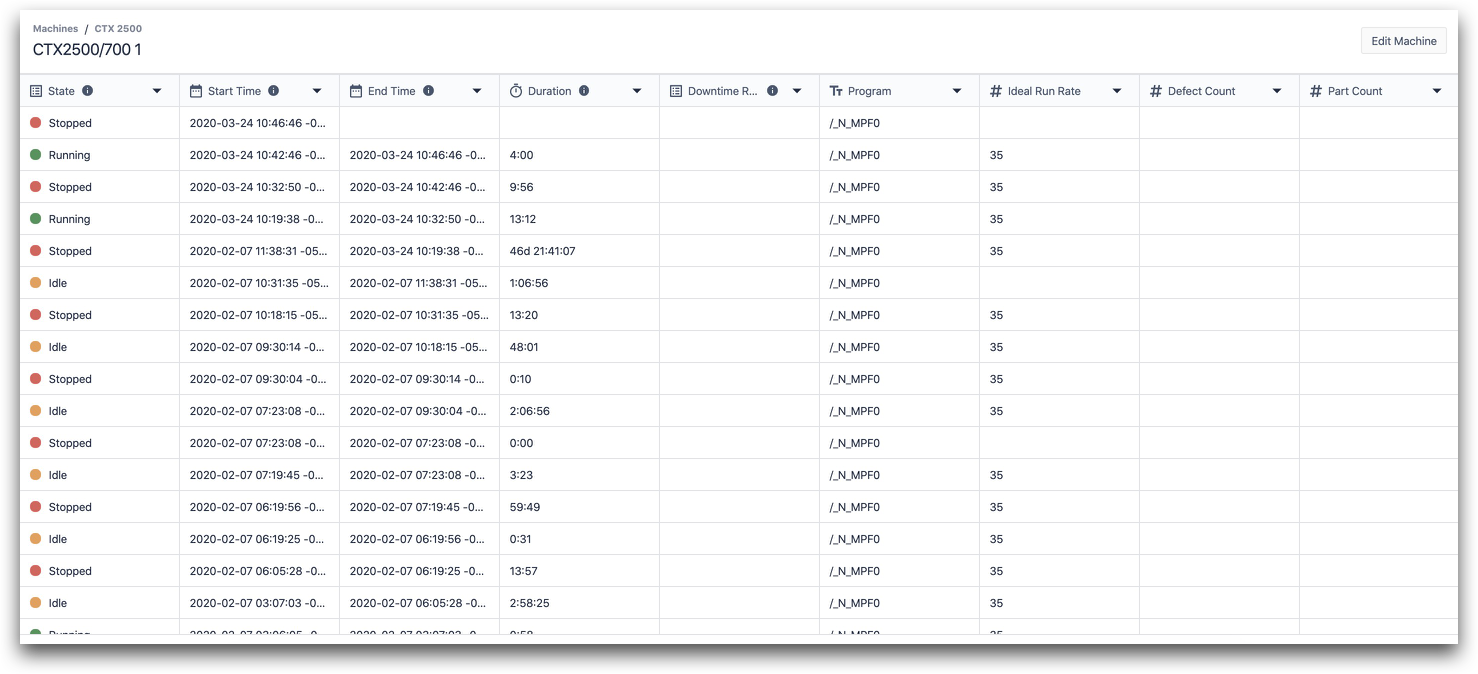 Each row in the history is defined by the amount of time that the machine spent in a certain state.
Here are the columns in this view with data type:
State (enum)
Start Time (datetime)
End Time (datetime)
Duration (interval)
Downtime Reason (enum)
Program (text)
Ideal Run Rate (number)
Defect Count (number)
Part Count (number)
Machine triggers can update the columns for each state based on attributes that you have mapped.
Further Reading
---
Did you find what you were looking for?
You can also head to community.tulip.co to post your question or see if others have faced a similar question!
---
Was this article helpful?
---
What's Next