Work Order Management App Suite
Overview
This app suite consists of a Work Order Manager, Work Order Operator View, Work Order Materials Reconciliation App, and a Production Performance Dashboard that support a different business transactions one might want to do against a work order including the following:
Create a new work order
Scan a barcode of an existing work order using tulip's built in barcode code scanner camera widget or any connected barcode scanner
Edit work order fields
Cancel work order
Receive and consume materials against a work order
Define material list for a work order
Dispatch work order
Track and manage units/lots against a work order
View real-time distribution of work order across multiple status'
Interactive search by work order
Trends over time of average processing time
The app suite is connected to Tulip Tables, but can easily be extended to connect to an ERP. See more on that below.
Benefits
This application enables you to track work orders throughout your production.
Installation Instructions
Install the application from https://tulip.co/library/suites/work-order-management-app-suite/. Begin by running the Work Order Manager application using the Tulip Player. Be sure to follow the instructions here to set up your station correctly Add a few dummy work orders, each with a different status and using the controlled workflow. You will notice that Tulip controls the workflow by only enabling actions that are relevant to a certain status. If the option you are looking for is not available, then try inputting a work order with a different status.
Possibly Modifications
Connecting to ERP - Follow the instructions here for how you can connect this application to your ERP. Once connected, be sure to swap out any references to Table Records in the application for the appropriate variable that is returned from the connector function. Use Microsoft Dynamics? Check out this app.
Adding on additional fields - To add additional fields to the work order - go to the [Common] Work Orders table. Scroll to the far right of the table and click the plus sign that is next to the last column. Add as many fields as you'd like. Then, return to the application and add the input widgets to a step. Select 'table record' on the right hand side menu.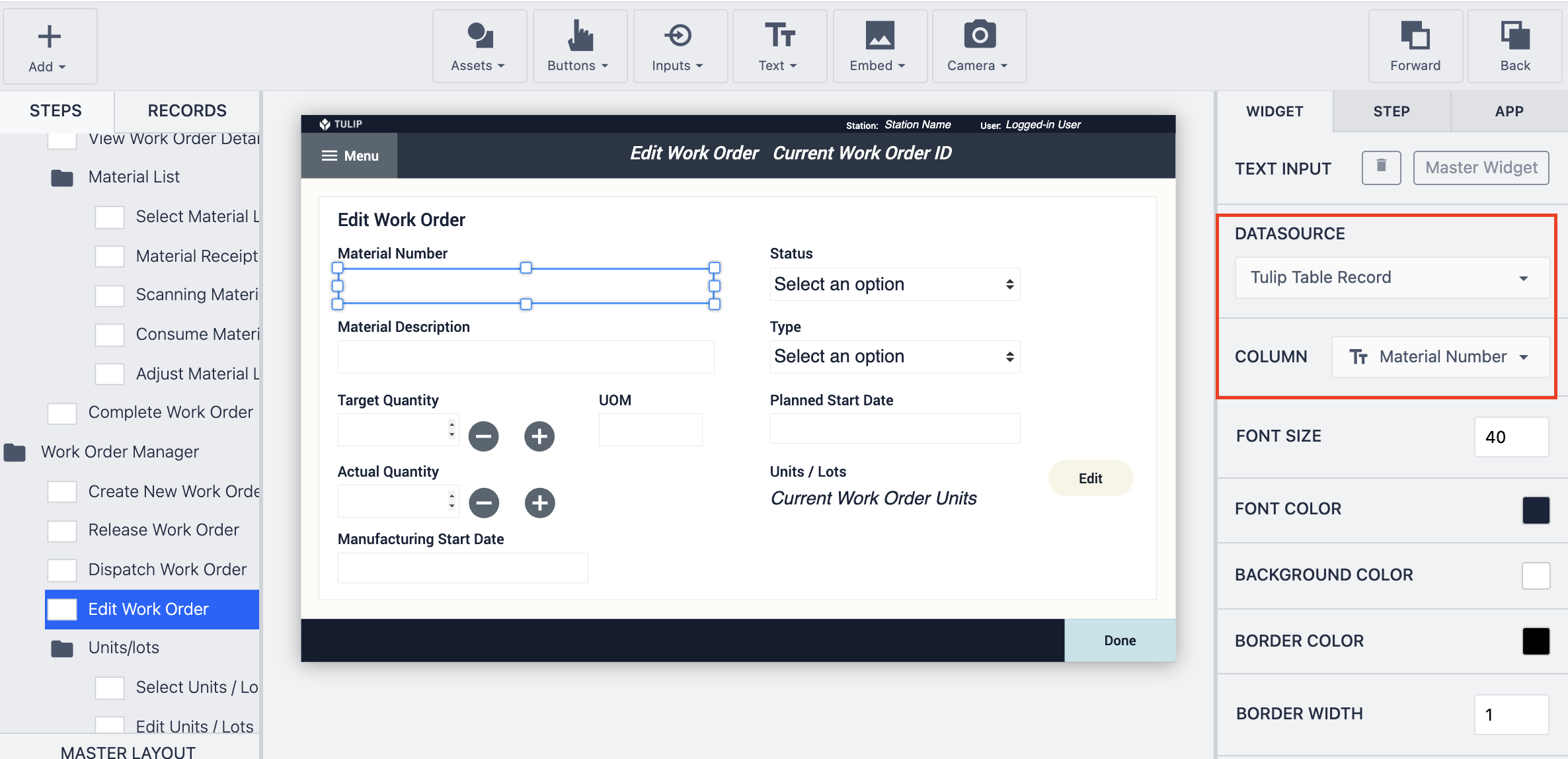 Delete Steps - It's likely that you might be interested in one or 2 of the actions here, but maybe not the entire app suite. Follow the instructions to here to see how you can copy steps to quickly build your own app
---
Was this article helpful?
---
What's Next