What To Do When Your Trigger is Not Working
---
Overview
Use this guide to learn how to debug a Trigger in Tulip.
There are some troubleshooting guidelines that you can follow if your Trigger is not working. If you are unfamiliar with how Triggers work, please refer to this article that introduces Triggers before reviewing this troubleshooting guide.
You can also use the search bar in the Knowledge Base by typing "triggers" and look for more references on what could be the specific issue you are currently experiencing.
If the two options above do not work, you can try the following:
Verify Trigger Type
Widget triggers are activated when the virtual button on your Tulip Player is pressed, or another App Widget is interacted with.
Step level Triggers can be activated on Step open, step close, device action, machine action or when time fires.
App Level Triggers can be activated with the application is Started, Completed, or Cancelled.
Make sure you have the correct type defined and expect to see the Action in the Tulip Player after you've checked the "when" section of the Trigger logic.
Example- Testing a Barcode Scanner
Make sure that the logic in the Trigger is correct by looking at the action and testing at each step of the way. If you're saving the value collected, you can check by adding a variable to your process.
For example, let's start with how to save the output from a barcode scanner.
Remember that you can plug in the barcode scanner to the Windows device USB output where you are running the Tulip Player. So plug in the barcode scanner and make sure your trigger looks like this: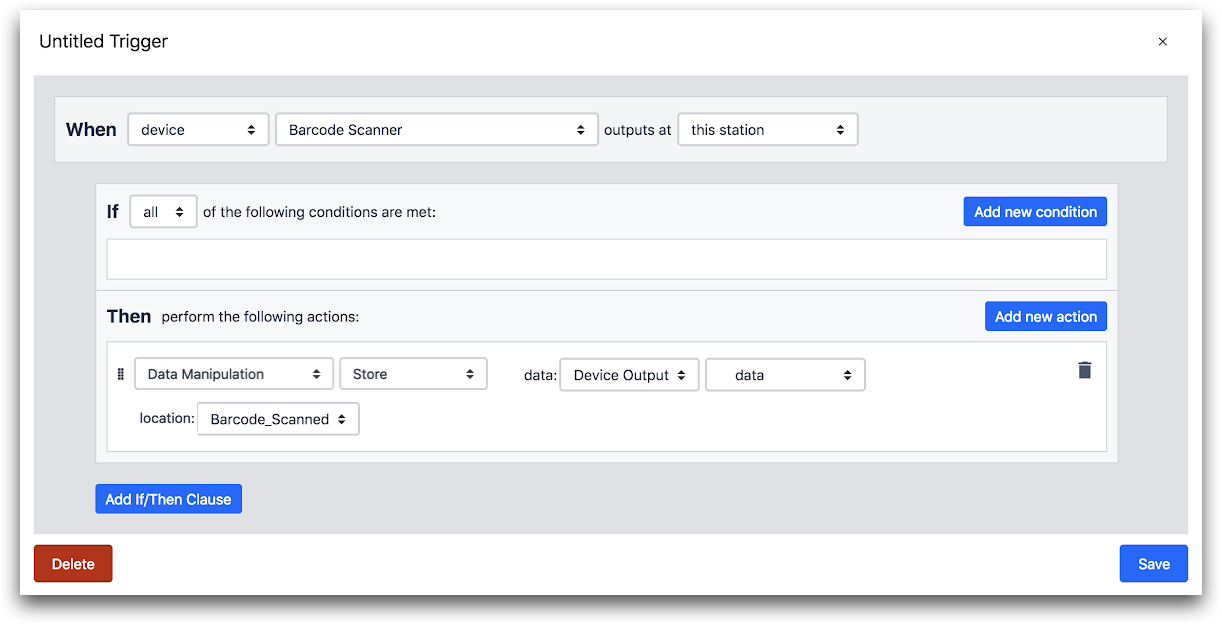 The idea is that the output from the barcode is stored as a Variable. You can change the name of this variable if you want to.
1- Make sure you add the variable to the app in order to show the output which has been saved in the variable called "Barcode_Scanned" via the "Text" widget.
2- Scroll down and click on the Variable option under the widget tab and select "Barcode_Scanned".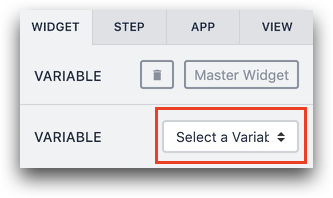 This will automatically add the variable to the current step.
3- Go to your Tulip Player on your Windows/Mac machine. Make sure that your barcode scanner is plugged into the machine.
4- After scanning a barcode, you should see the scanned barcode show up in the text field on the open step in the Tulip Player.
The previous explanation applies for any kind of Trigger where you use an action and then save the variable or output to a variable. You can figure this out by adding the variable text to your app.
If you have any other questions, you can submit a Support Request or Live Chat with us.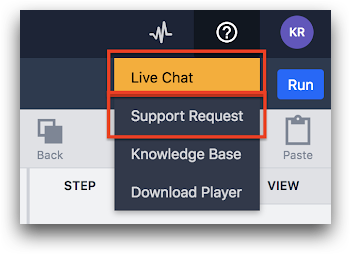 ---
Was this article helpful?
---
What's Next