Overview of the Device Portal Diagnostics Page
---
Share feedback
Thanks for sharing your feedback!
Overview of the Device Portal Diagnostics Page
Warning
**On November 1, 2021, Tulip will no longer sell I/O Gateway devices, this article still applies to Edge IO and Edge MC devices. Learn More
The Device Portal allows you to view diagnostic information and log messages.
To access the page, select "View logs files" from the Device Portal homepage.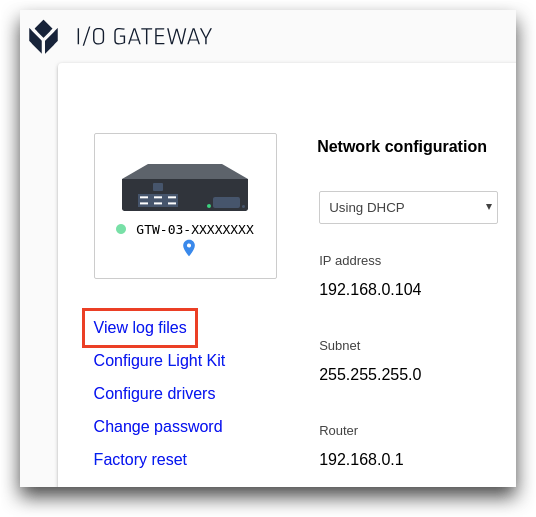 Logs
The Logs tab will show a streaming view of log messages generated on your Edge Device.
You can use the "Source" dropdown to filter the logs to a particular source or just copy all of the logs to your clipboard with the "Copy to Clipboard" button.
These log messages are helpful to share with Tulip in the event that you are experiencing unexpected behavior.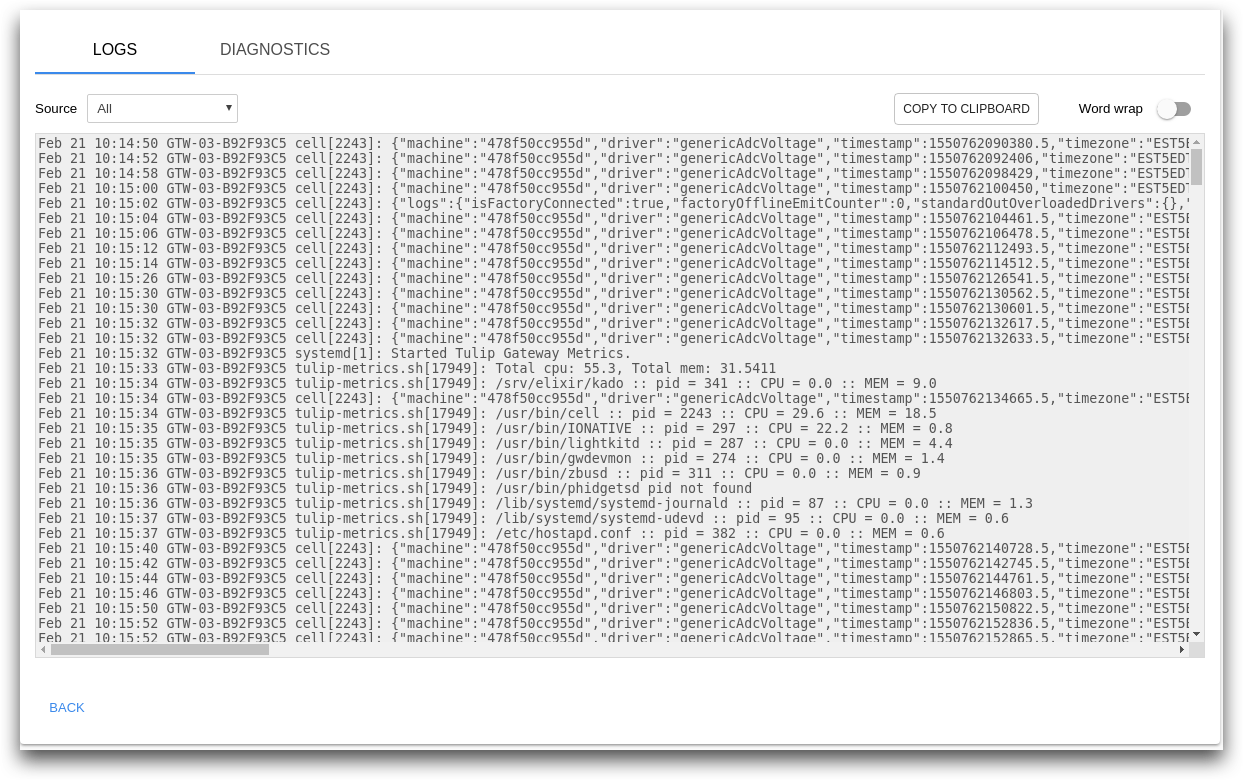 Diagnostics
The Diagnostics tab will show a formatted snapshot of some key diagnostic information for your Edge Device.
Log Page Filter Options
ALL
shows all logs captured on the Edge Device.
Tulip-ap
logs from the access point.
Tulip-cell
logs from the cell process, manages device drivers and connection to factory.
Tulip-init
logs from process that runs at boot to initial the Edge Device.
Tulip-gwprom
logs from service that manages interacting with EPROM of Edge Device (read only memory).
Tulip-hostname
(can be blank) info about the Edge Device hostname.
Tulip-ionative
(can be blank) logs about the Edge Device GPIO service.
Tulip-lightkitd
logs from service that manages the Tulip light kit.
Tulip-kado
logs from the device portal.
Tulip-phidgetsd
(can be blank) logs from the service that connects to the phidgets temperature sensor.
Tulip-gwdevmon
logs from service that detects plug cycle of usb devices.
systemd-networkd
logs from the Edge Device's network changes.
Tulip-rtunnelc
logs from Edge Device remote support.
iptables
logs from service which manages the Edge Device firewall.
Diagnostics Page Filter Options
All
The all option shows all information in the diagnostics tab.
Network health
this option tells you your download speed and weather ports 53, 443, and 80 are open.
CPU info
what kind of CPU is running in your Edge Device.
Device info
Edge Device serial number and Edge Device version.
eMMC manufacturing infoinfo about the eMMC storage your Edge Device runs on (internal storage)
Front end
info about the device portal front end .
OS info
OS version number and OS name.
Partition info
info on your Edge Device file system.
Tulip package info
lists all packages installed on your Edge Device and their versions.
Firmware checksum info
Info on uboot .
Further Reading
Troubleshoot your Tulip I/O Gateway
---
Was this article helpful?
---