Machine Shop App Suite
A group of applications to support common machine shop operations
Purpose
This document will show you how to install, configure, and use the Machine Shop App Suite (MSAS). It was designed based on a model of a typical machine shop that has jobs passing through a variety of work centers according to a routing. Machining operations that produce a larger quantity of parts with lower cycle times (such as small pieces) are best suited for this suite versus machine shops that produce single parts with long cycle times while the single part moves from workcenter to workcenter (such as large pieces with fine details). This suite does not include any applications for connecting directly to machines but instead supports the processes that typically surround machines.
Video Overview of Machine Shop App Suite

Diagram of Core Functionality

High-Level Overview of Core Functions
Material Requisition - *This enables a downstream operation, such as an assembly area, to place orders to the Machine Shop. There are other applications in the app library that you could use in place as this, such as the Kanban Application
Job Dispatch - Once a material request is received, a production planner or supervisor may elect to dispatch or release this job to the machine shop. At this point the Job will begin to work through the shop in accordance with its routing and related instructions.
Part Configuration - In order for this application suite to function, you must define products for your machine shop to produce. Products will be assigned inspection procedures and process routings.
**Machine Definition -***This portion of the application allows you to define your machines for the purpose of facilitating changeovers. You will be asked to declare the various tool holding positions in your machine and what is currently equipped. You will also be able to define setup requirements specific to machines and processes as defined by the part configuration app. It is worth noting that this definition is distinct from a machine that is defined when connecting directly to the stream of information coming from a machine
Machine and Job Selection - Once configured, you will be able to use the "Machining" app to declare which machine you are using and view the jobs that have been dispatched. Jobs will record their history as they pass through your shop and can be filtered to show only those jobs which apply to the specific machine you may have selected (if you choose).
Machine Changeover - This application will compare the setup requirements for a given job against the tooling that is currently equipped in your machine. Changeover data, such as how long did the setup take to perform, will be stored as the user is shown which locations to change and how. You may elect to connect this portion of the application to dynamically loaded work instructions so that users may be shown how to change specific tool holding positions in specific machines.
Request Tooling / Tool Room - This application allows users to request changeover equipment and/or gages to be delivered to the machine so as to improve the downtime associated with a changeover. Tooling requests can be viewed by the Tool Room app and marked for delivery.
First Piece Inspections - In the part configuration application you can define a first piece inspection procedure, which will require that the user verify a number of different criteria are met before proceeding with the Job. This information is stored for future reference and quality records.
In process Inspections - In the part configuration application you can define an in process inspection procedure, which will display inspection requirements according to the frequency declared during part configuration. For example, you may elect to measure a certain dimension every 5 pieces and another dimension every 15 pieces.
Request Fulfillment - After all procedures in the routing are completed, the job may be reviewed and marked as completed. This will close the job and mark the material requisition as ready for Delivery.
Mobile Delivery - For any requisition, such as a material requisition from an internal customer or a tooling request, users of this application will be prompted and asked to pick up the item and deliver it to the requesting location, such as an assembly cell or machine.
Installation
This suite relies on the Tulip Table API for some of its functionality.
Setting up the Tulip Table API
First, create a bot using the Tulip Table API by clicking on settings in the top right

Then Create a Bot

Grant the Bot all Scopes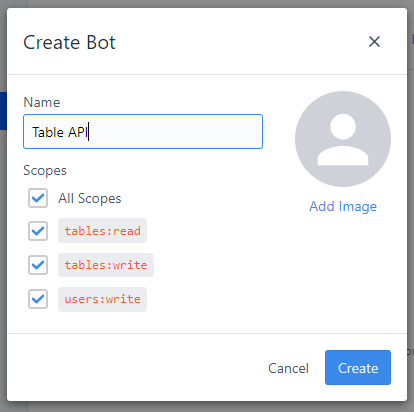 This will generate credentials for you to set up your API connector. It is a good idea to save these somewhere. Leave this window open while you open up a new window.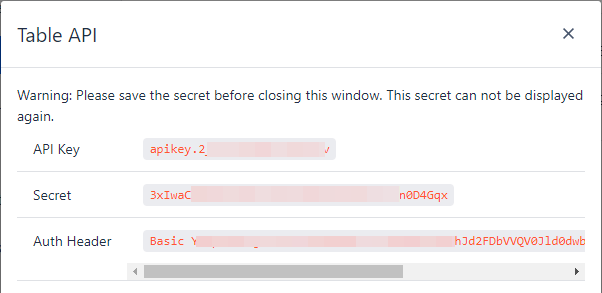 In your other window, navigate to your connectors and select the new HTTP connector called "Table API" and edit the connection settings


Choose "Cloud Connector Host" and enter in your tulip instance as the host. Then click edit headers.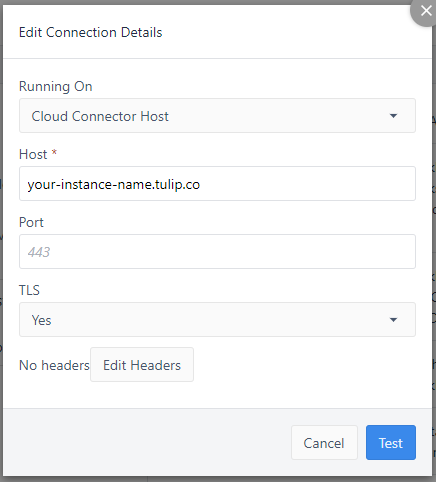 Choose Basic Auth and enter in your API Key (from the previous window) as the Username and your Secret as your Password.
Your table API is now set up!
---
Was this article helpful?
---
What's Next