How To Change Editing Permissions on Individual Apps
---
Share feedback
Thanks for sharing your feedback!
How To Change Editing Permissions on Individual Apps
Here's how to prevent certain Tulip users from editing apps.
By default, all Tulip users can modify any app within your Tulip account (except Viewers).
However, you may want to restrict editing abilities for specific apps. For example, engineers on one production line may only get permission to edit apps related to their line.
To change editing permissions on an individual app, click the "Permissions" tab in the App Summary View.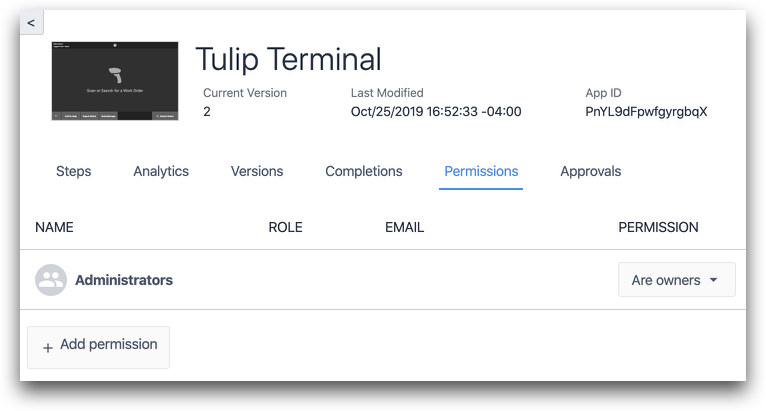 As you can see, by default, all Tulip users are "app owners", which means that they can edit the permissions on the app. There are 4 types of app permissions:
Can view
Can edit
Can publish
Are owners
Only app owners and publishers can change the app version that is running on the shop floor.
How To Restrict App Editing Permissions
To restrict the list of possible app editors, click "Add Permission" and add yourself as an app owner.
Then, click the check mark to confirm the change.

Add any other Tulip users that should be app owners or editors.
Then, change the permission on "Everyone" to "Can View". Click the check mark to confirm that change. This will prevent other users from modifying the app.
Permissions Changes When Copying Apps
When you copy an app, all permissions are automatically reset to the default: "All Users".
---
Did you find what you were looking for?
You can also head to community.tulip.co to post your question or see if others have faced a similar question!
---
Was this article helpful?
---
What's Next