Digitize your gemba walks and audit checklists
Purpose
Many operating companies have an audit process where any number of staff will walk the operations floor with a checklist. This is a common practice to ensure compliance with Environmental Health and Safety standards, Material System execution, or any other type of routine or periodic checks. Typically, these handwritten forms are turned into a manager who then compiles the data and follows up on non-conformances. This administrative burden is unnecessary with a digital solution. These applications allow managers to define, schedule, and manage their checklists as well as the follow-up actions.
General Process Overview
Using the "Manage Checklists" application, create and schedule any number of checklists that should be performed and in which areas. Then, using the "Checklist Requirements" application, define which items you want the individuals to check. Assigned individuals can access the checklists using their mobile devices and the "Checklist Terminal" application. Here, they will begin one of their scheduled checklists and indicate whether or not it is in compliance. When there is a non-conformance, the individual can either resolve the issue on the spot or create a follow-up action. They can also take images or write comments. Individuals can access these follow-up items from their mobile application or create any ad-hoc action item that they may notice throughout their daily work (not tied to a specific audit). Finally, the "Checklist Dashboard" application can be used for visual management of pending audits and to follow-up on action items.
Getting Started - Application Overview
Below is a video that walks through the application in more detail:
Installation
These applications make use of Tulip Table APIs and analytics, both of which will need to be set up before the app will function. You will also want to define the areas dropdown selector (where checklists will be performed) and requirement group selector (to aggregate your checklist items by type). Once those are set up you will be able to begin using the app and managing your assets.
Setting up the Tulip Table API
First, create a bot using the Tulip Table API by clicking on settings in the top right
Then Create a Bot

Grant the Bot all Scopes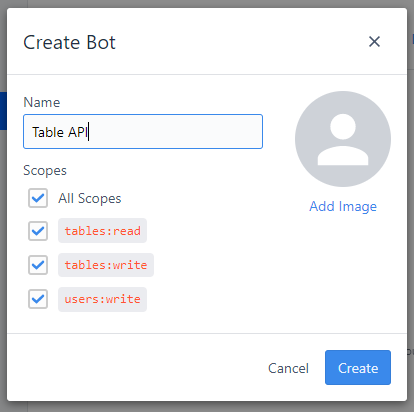 This will generate credentials for you to set up your API connector. It is a good idea to save these somewhere. Leave this window open while you open up a new window.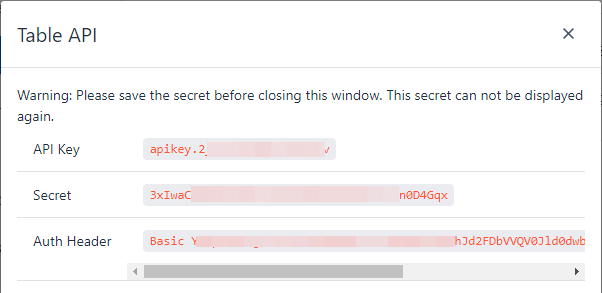 In your other window, navigate to your connectors and select the new HTTP connector called "Table API" and edit the connection settings


Choose "Cloud Connector Host" and enter in your tulip instance as the host. Then click edit headers.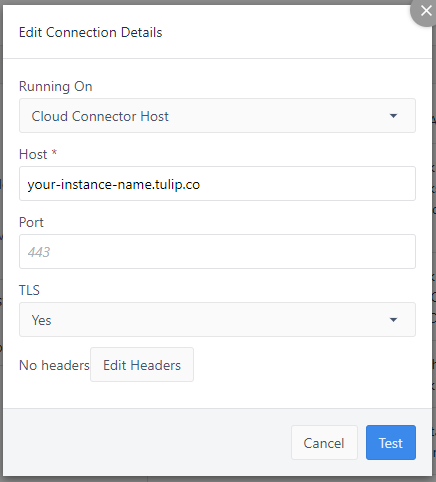 Choose Basic Auth and enter in your API Key (from the previous window) as the Username and your Secret as your Password.
Your table API is now set up!
Adjust your Area and Group drop downs
In the "Checklist Requirements" application, select the "REQUIREMENT GROUP" drop down and change this to suit your needs by adjusting the drop down items to the right. These will be used to organize your checklists and place your checks into buckets for Pareto analysis.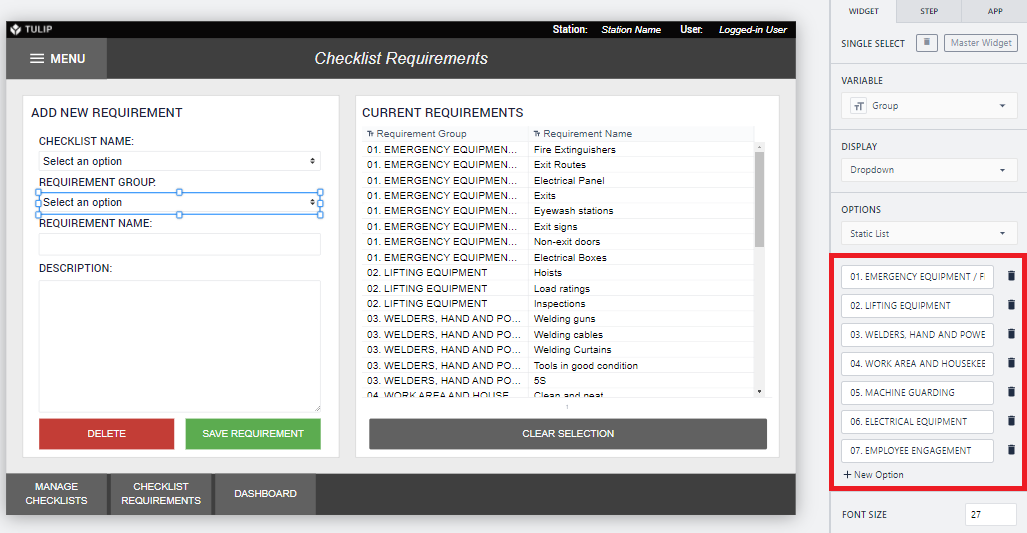 Make the same adjustments in the "Manage Checklists" application for the "CHOOSE AREA" and "FILTER BY AREA" drop down selectors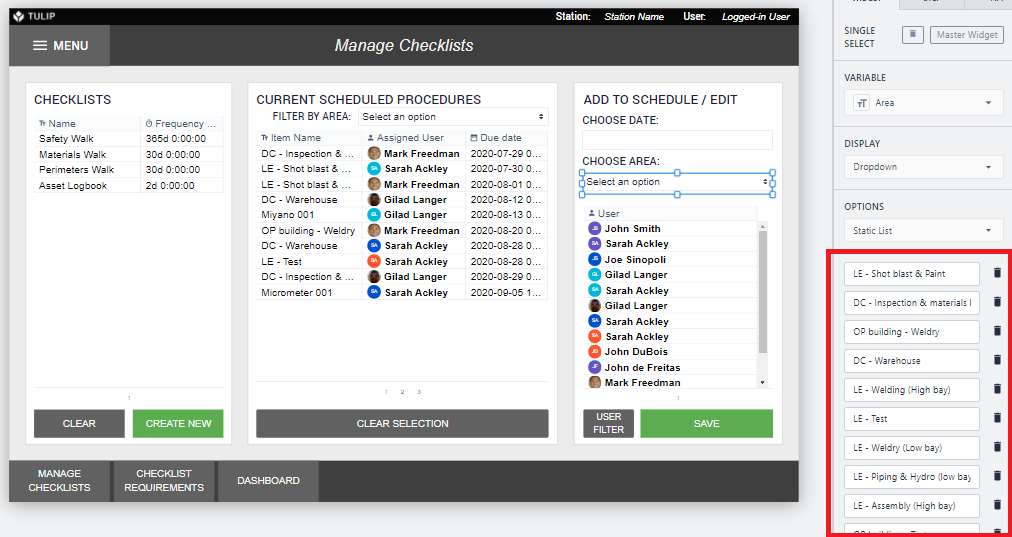 Your application is now installed and ready to use!
---
Was this article helpful?
---
What's Next